5 Things You Can But With Crypto and How
Nov 14, 2022
Author: Elle Miller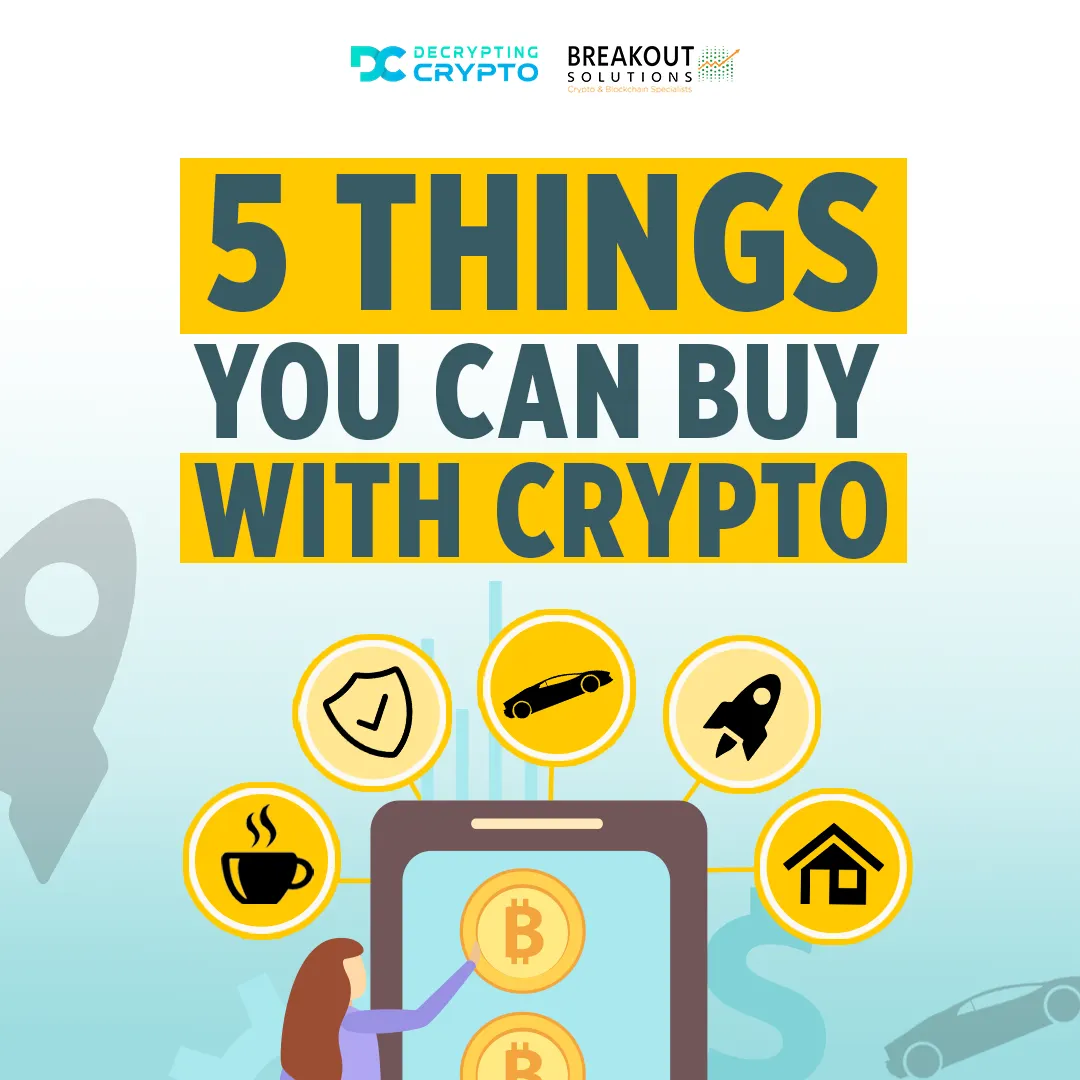 The crypto boom of the last few years has focused a lot of attention on Bitcoin and other tokens as a financial investments or a store of value. What is most overlooked is that many of these cryptocurrencies can also have practical applications.
The most commonly understood practical application is as a currency - something you can use to buy stuff!
Using crypto to make payments has been made so much easier. Here are some things you can now buy using crypto:
1.Starbucks
A cup of coffee and a muffin can be paid for using crypto at Starbucks. It doesn't stop there - many food outlets, including some of the mega restaurant chains, are accepting crypto as a direct payment, through crypto-loaded gift cards, or crypto debit/credit cards.
2.Insurance
You can even get yourself some types of insurance utilising your crypto! One example is Swiss insurance company AXA, which recently announced that it will now accept Bitcoin for a range of different insurance packages.
3.A Lambo…
The quintessential "I'm rich now symbol" and luxury car, the Lamborghini, can now also be paid for by Bitcoin. Coined as the "Wen Lambo?" by crypto enthusiasts, many dealerships allow you to buy your very own Lambo using Bitcoin as a payment method. There are many other car dealerships moving towards crypto payments for all types of vehicles - so even if you want something a little more practical as your new car you'll likely be able to find somewhere that would be happy to take your crypto as payment for it.
4.Space Travel
It's no surprise that Richard Branson, known for his risky antics and brave nature, supports the use of Bitcoin for purchase transactions. His latest venture, Virgin Galactic is now providing the ability to buy tickets to go to space using over 70 different types of cryptocurrencies.
5.Real Estate
One of the most surprising and actually one of the most practical purchases you can make with crypto is real estate. No, not the virtual "metaverse" kind. We are talking about real land and bricks-and-mortar real estate that can be purchased using crypto - usually via Bitcoin. There are even opportunities to buy fractionalised real estate using crypto - so if you cannot afford to buy an "entire" property - get into the real estate space by buying "part" of a property!
How is that possible? One company that does this really well is B4REAL - they enable you to purchase your next property with crypto.
B4REAL is providing a global first service in helping you save for and buy properties in the real world, leveraging crypto, and blockchain technology - all through purchasing their B4REAL tokenThe great thing is you can also stake your B4REAL tokens and earn an amazing return and have this go towards your property purchase.
They also have an advanced DeFi layer in the works that will generate yields, and invest those yields into tokenised fractional property portfolios (remember - you don't have to own an "entire" house to be in the property game!)
If you want to learn more about what B4REAL is going, you can check this out: https://breakoutsolutions.ac-page.com/b4real-replay
There was a time when the only thing you could buy with crypto were pizzas from Papa John's via a sketchy website. Things have certainly come a long way since 2010!
Who knows what the next decade will bring but one thing is sure: crypto and the blockchain have already changed the world as we know it! Maybe you hadn't noticed yet, maybe you know but you're not sure what to make of it - whatever the case may be, things will continue to change rapidly. Now is the time for us all to make sure we understand what's going on and what the future will look like - so that we can be a part of it all.